Tradition and Technology at your Service
The love of fine wooden cedar boats inspires our craftsmen everyday ! See our catalogue to explore our different models, from our elegant Princess 12′ to our traditional Prospector 16′.
Our newest generation of composite canoes offers you everything you'll need for an unforgettable paddling season. Discover our different models where design and technology meet in the finest way !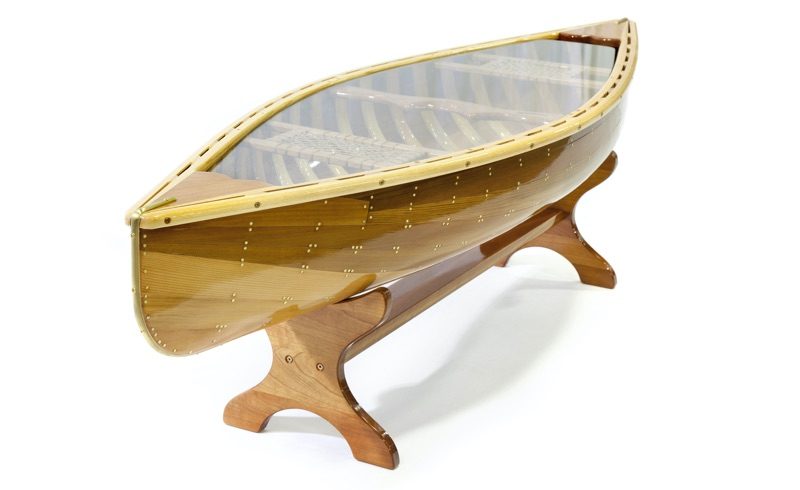 For canoe and wood enthusiasts, we have created a collection of furniture on the canoe theme. Bookcases, coffee table and display canoes will bring a unique touch to your home.
Easy to portage and good tracking
I've paddled my Prospector (Kevlar) for two full seasons. I love this boat. At 39 lbs, it is easy to portage. It tracks well yet turns quickly. I have paddled it both solo and tandem. It has good initial stability and great secondary stability. I have paddled this on large/small lakes and rivers and stayed dry in large wave. My family have used this for trips up to 9 days. I would not hesitate to recommend Rhéaume's canoes.
Excellent Design and Traditional Shape
My new carbon fiber Prospector is an older canoeist's dream come true. For a composite canoe, it has a lot going for it. It paddles well - thanks to an excellent design and it has a traditional shape which is to my liking. Compared with my old cedar strip, maintainance should be a snap. I chose the composite gunnels to keep the weight as low as possible (a real 33 lbs). The interior finish is top-notch.
Passion, Skill and Tradition
In the early eighties, professional cabinet maker Alain Rhéaume turned his wood working skills towards the art of canoe building. Since that first canoe model, the product line has grown to include over 20 canoes, several display canoes and canoe bookcases. Almost every part on the boats and bookcases are handcrafted. The lacing for our rawhide seats, the hand caning and steam bent parts are all made at our factory in Saint-Tite, Québec.
The love of fine wooden cedar boats inspires our craftsmen everyday and we love nothing more than to see our craftsmanship reflected on the surface of a calm lake or a river. Our products have already become family heirloom and will be passed down through generations. We hope you enjoy the canoes we make as much as we love making them.
Join Our Community Today!
Subscribe to Our Newsletter
*by subscribing, you agree to our terms and conditions